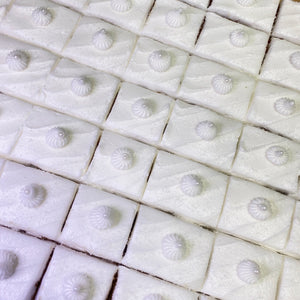 Available flavors are the most popular flavors.
Sizes:
Small-24 cake squares
Large-50 cake squares
X-Large-100 cake squares
Flavors:
Vanilla Butter-Vanilla Cake with Vanilla Buttercream
Chocolate-Chocolate Cake with Chocolate Buttercream
Almond Butter-Almond Cake with Vanilla Buttercream (in picture)
Red Velvet-Red Velvet Cake with Cream Cheese Icing
Italian Cream-Italian Cream Cake with Cream Cheese Icing
All sales final!!